Jonathan Stout and Hilary Alexander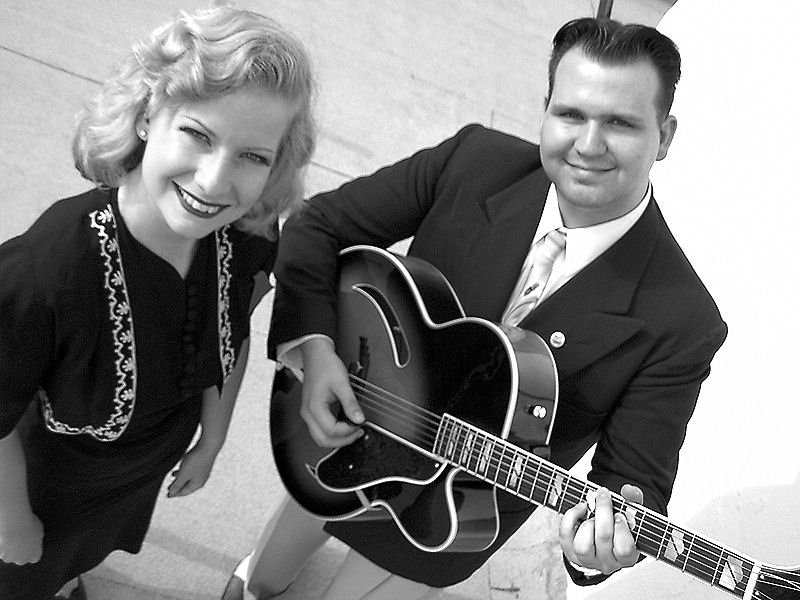 The Jonathan Stout Orchestra, featuring Hilary Alexander is the nation's premier swing dance big band.  The 14-piece JSO captures the unmatched excitement and true rhythmic pulse of the Swing-era, and is the most danceable big band anywhere. The band follows the templates of Benny Goodman and Count Basie – orchestras that were aggressive and tight, and filled with all-star soloists that bring the fire on every song, regardless of tempo.
The Orchestra was founded in 2004 after promoters demanded a full big band that was as danceable and exciting as the Campus Five. Jonathan and Hilary responded with a big band that was designed from the outset to be the ultimate swing dance orchestra, and has gone on to become the gold-standard in the swing dance world.
"Guitarist and banjoist Jake Sanders must have gotten tired of being told that his first name — in Twenties slang — is a synonym for great, as in 'Everything's Jake!' meaning things couldn't be better … but the name fits.
Youthful Mr. Sanders creates lovely melodies; he knows how to swing; his musical vocabulary is broad and rich without ever being artificially enhanced.
JAZZ LIVES viewers have seen him here as one of the guiding lights of the Cangelosi Cards…. I encourage you to get out and hear him!" – Michael Steinman from Jazz Lives.
Ann Sychterz (Switzerland)
Ann (CA/PL) began dancing lindy hop in 2009 (balboa in 2011) in Waterloo, Ontario (not far from Toronto). Music played in beginner lindy hop lessons peaked her interest to find out more about swing jazz. Since getting her first songs, she has DJed in Waterloo and Toronto as her home scenes until she moved to Switzerland for her PhD. She has had the fortune of playing in Lausanne (local scene), Bern, Luzern, Zurich, as well as in London, Berlin, Hamburg, Dresden, Dortmund, Toulouse, Genoa, and Moscow. She had sets during the California Balboa Classic and All Balboa Weekend. Digging through old stuff and new (though a particular soft spot for the old stuff), small group to big band, North American and European, she aims to create an atmosphere worthy of creativity and playing around with the dance.